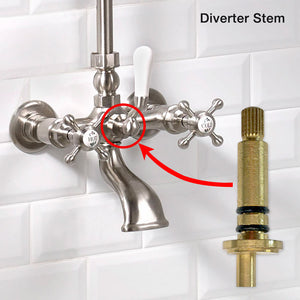 Diverter Stem for Coventry Brassworks 1/2" Exposed Two Valve Tub and Shower
RECOMMENDATION
If turning the diverter handle does not divert the water between the tub spout and the shower head, then you should replace this diverter stem.
FEATURES
Precisely-machined brass stem
Certified to meet or exceed the following codes and standards: ASME A112.18.1/CSAB 125.1-2011.
SHIPPING TIME
Usually ships in 1 to 2 business days.
NOTE
This is a precision-made product and we recommend professional installation.