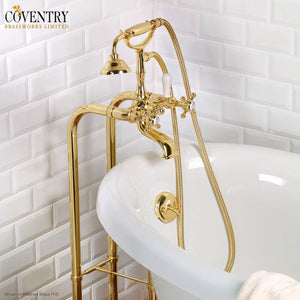 Coventry Brassworks 3/4" Floor Mounted Telephone Hand Shower with Tub Spout
Product 18-420-10
---
About
The elegant English-inspired design and craftsmanship of the Coventry Brassworks Limited 3/4" Floor Mounted Telephone Hand Shower with Tub Spout will add timeless beauty and luxury to your bathroom.
---
Finishes
Shown in Polished Brass PVD
Available in a variety of 8 luxurious finishes
Select metal finish above (vary in price)
---
Features
Elegant English-inspired design
Premium solid-brass components from Italy, Germany, and United States
Precisely-machined valves from Germany and France
High-quality German quarter-turn ceramic disc valve cartridges
Finest American metal coatings and hand-polished finishes
Certified to meet or exceed the following codes and standards: ASME A112.18.1/CSAB 125.1-2011
---
SHOP WITH CONFIDENCE
Free shipping
This is a quality product covered by our warranty
---
Fulfillment
Product is made to order. Production time varies based on metal finish.
---
Installation
This is a precision-made product and we recommend professional installation.
---
🇺🇸 Designed, engineered, and built in United States of America.
---