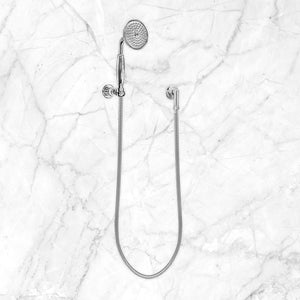 Wall Mount Hand Shower Set with Waterway and Wall Bracket
Product 78.10.151
Shown in Polished Chrome metal finish.
Use the menu above to select your desired metal finish. Price varies based on metal finish.
Includes the following components:
All metal handshower wand 18.10.200

60" metal spiral hose 18.10.016

Vacuum breaker 18.15.056

1/2" FIP Waterway 78.10.012

Wall bracket 78.10.011

2.5 gpm (gallons per minute) flow restrictor installed in shower wand.
FEATURES
Elegant design
Sturdy solid-brass components from Italy, Germany, and United States
Finest American metal coatings and hand-polished metal finishes
Certified to meet or exceed industry and sanitary standards
SHIPPING TIMES
Ship in 3-5 Days: Polished Chrome, Polished Brass PVD, Satin Nickel PVD, Antique Bronze
Ship in 2-3 Weeks: Polished Nickel PVD, Matte Black
Ship in 3-4 Weeks: Brushed Bronze PVD, Satin Gold PVD